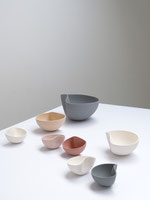 Since the DEZEEN-article appeared, MOON goes worldwide : China, Spain, Portugal, UK, Australia...
I'm amazed and very happy with all this love for MOON.
Today I received a beautiful email from the two ladies of Detail Collective from Australia. I read the article they wrote about me an felt me completely understood. Very heartwarming. I love to share the article with you :
Ilona Van den Bergh is a Belgian ceramicist who aims to imbue her work with 'an atmosphere of serenity'.   The result is a beautiful collection of work that we can't wait to show you...